---
The Beige Side of Tuffy's Mind!
The halo is fading ........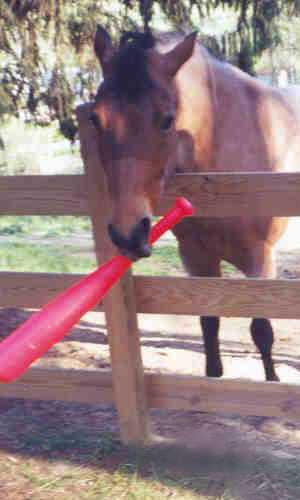 You have reached the website normally entitled "The Dark Side of Tuffy's Mind." In July, however, when Tuffy reached new levels of perfection by not killing anyone at the local horseshow, I put up TuffyLite in his honor.
Not that he isn't still perfect. But since we moved to Huntington so I could attend Marshall U, his life hasn't been going so well. (Stuff's. Not Marshall's. Marshall isn't a person. Well, not anymore. It's a place named after a person. Namely, a school. Not that the person was a school. I'm saying Marshall is a school. It's a school named after a person named Marshall; hence, it's named Marshall. Not that the man's first name was Marshall. I think it was John. There's a big statue of him outside the library. And a boulevard named after him. Not that the boulevard is named after the library. The library is named after someone called John Deaver Drinko. I know, ouch, huh? I'm glad they didn't name the school after Mr. Drinko. You know, it's interesting that we have Drinko Library and Stone Library, isn't it? Anyway. I'm at Marshall University, a place named after a person whom I've never met, unless you count bumping into his statue as meeting him. But I guess you wouldn't, unless his ghost haunts the statue. And who knows? It just might.)
Stuff lives on a beautiful mountaintop farm called Eagle Wing. He's surrounded by some of the most beautiful -- and colorful -- horses he's had the pleasure of meeting. So why is he unhappy?
You know that old saying, "no hoof, no horse"? Well, Tuffy arrived two and a half weeks ago minus three shoes, and the farrier has yet to make an appearance. Although he still has hooves. Not the farrier. Tuffy. I don't know if the farrier has hooves. You know why? Because he still hasn't made an appearance. But Tuffy still has hooves. Just no shoes. And there's still a horse there. So maybe that saying doesn't bear on this situation at all. Anyhow. Second of all, I'm there for one hour every morning, and that's as much as I'm able to turn him out. One hour a day of pasture time isn't enough for Mr. Bottle Rocket.
I'm not saying he isn't perfect. I'm just saying the bright and chipper aura that's been surrounding him is slowly turning .... beige.
Through no fault of his own, of course.
Enjoy your stay on TuffyBeige. We just might regress to the dark side any day.


---
---
Stuffs you'll find on this site:
Click here to meet Tuffy, the monster behind the name.

Send or pick up a Greeting Card!

The Horse Kick ~~ Inside the minds of the horse obsessed ....

Mulder Loves Scully Land ~~ devoted to X-Files devotees (Shipper, Finishipper, and UST-Friendly)

Casey Loves Dana Land ~~ devoted to Sports Night devotees (ABC-bashing welcome ::glowers::)

The Western World~~Welcome to the West Wing

Vocabulary Words II~~First takes you to an annoying but necessary warning, because this page contains bad language and I gots little ones stopping by here. Then takes you to a really ******* funny page of mix-ups made during speech.

Thought Spoken ~~ A cuddly little window seat full of poetry and such

Words In Hand: American Sign Language~~Finally updated!

Junks and Stuffs and Whatnot ~~ Special thanks to Darcy for the name!

My Awards ~~ Yes, 'tis true -- this website has received even more awards than Tuffy and I have won together in the show ring! (That total, by the way, rose to ONE last summer. We're tickin' up ... slowly but surely ...)

College for Psychos ~~ Here's the college coursebook if I ran the university ...

Links ~~ What?!? Don't leave my site!! Ever! Please?

My Photo Album ~~ Enjoy a page of beautiful ... in their own way ... people!




people have cantered, channel-surfed, scribbled, fumbled, or been beamed to this site since Oct. 5, 1999!
view my guestbook sign my guestbook

Sign my new slambook!
View My SlamBook! | Sign My SlamBook!


---
---
Webrings

This The X-World Webring site owned by Sary.